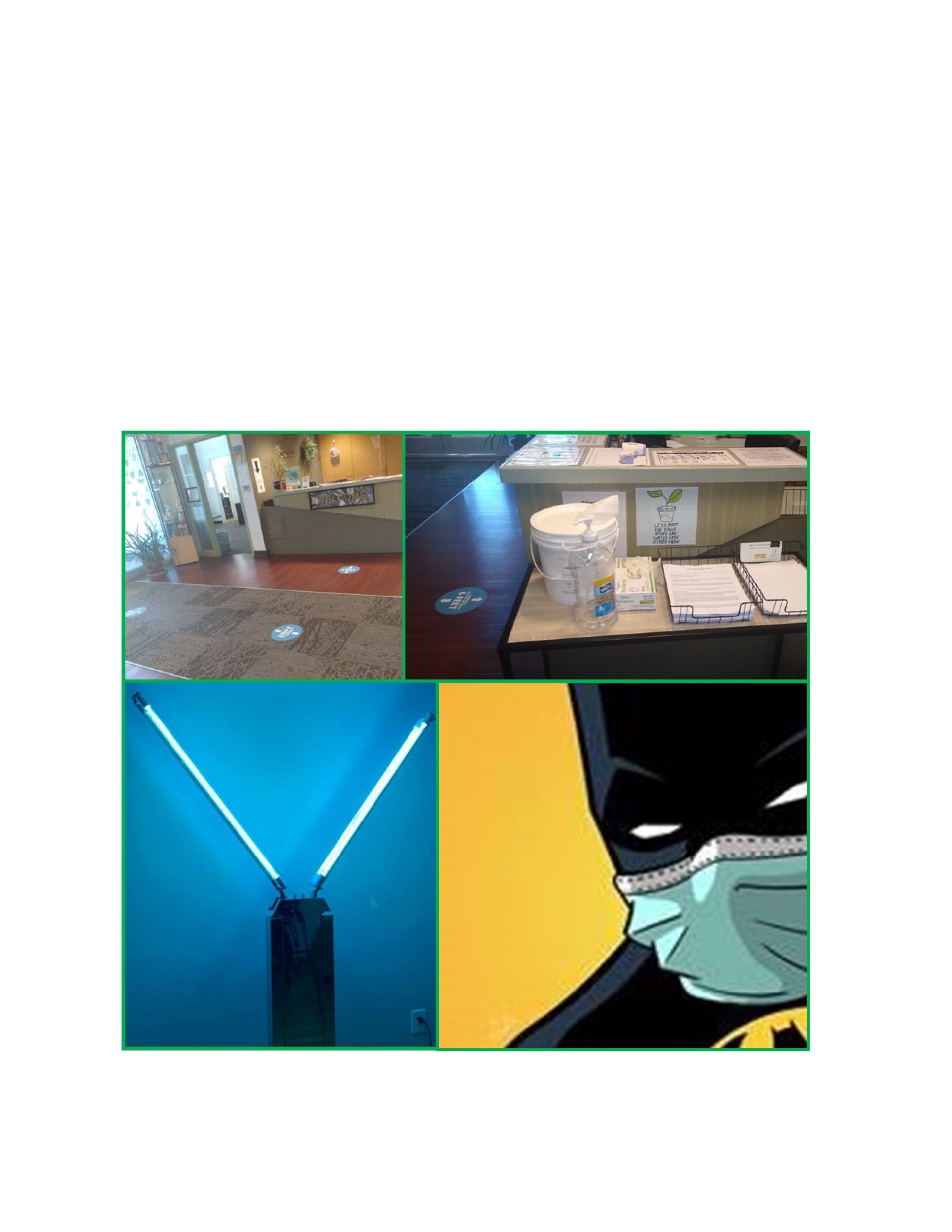 While there is still much to learn about COVID-19, one thing is certain – combating against its spread is essential. At Community Assessment & Treatment Services (CATS), the staff is doing its best to prevent infection through its COVID Clean Campaign, which aims to make CATS the cleanest treatment center in Northeast Ohio.
Marlon Hatcher, who has more than 20 years of experience in the health care industry, was given the role of COVID response coordinator at CATS to create and ensure compliance for the COVID Clean Campaign. He implemented a strict sanitation protocol and guidelines that all staff, residents and visitors must follow before entering any CATS facility.
What is the COVID Clean Campaign?
Simply put, the COVID Clean Campaign is a checklist of sanitation protocols that ensures both employees and visitors maintain ultimate cleanliness of the CATS facilities. But it goes beyond standard protocol. The COVID Clean Campaign is a commitment to the health, safety and well-being of all of CATS residents, staff and visitors along with the tools and systems needed to make it happen.
"I was given this position to make sure we have a complete checklist of our sanitation efforts, make sure we have masks and all of the PPE products that we need, that we are staying compliant, so I do rounds to check that everyone is wearing their masks properly and maintaining social distancing," Hatcher said.
And it all begins at the front door. As part of COVID-19 guidelines, every person entering CATS must wear a mask and report any symptoms of the coronavirus. Anyone with a temperature over 99.9 degrees F will not be allowed into the facility. People are also required to sanitize their hands upon entering and complete a health assessment questionnaire.
However, the main focus of the campaign is the cleaning and disinfecting. The facility is cleaned and sanitized three times per shift by staff and residents. They use bleach and disinfectants to wipe down every area of the facility by hand. That means the entire facility is cleaned six times per day!
The Clean Machine
In addition to the hand cleaning by staff, Hatcher also uses Disnfek, a state-of-art machine that uses Ultraviolet-C (UVC) technology to deactivate germs and viruses. This type of technology has a 99% effective rate at killing germs and viruses, including coronavirus. CATS is the only treatment center in the state of Ohio known to be using this technology.
Currently, Hatcher is the only CATS staff member trained to use the portable cleaning machine. He is able to clean the whole facility by using the machine every morning from 6 a.m.-12:30 p.m. When the machine is in use, no one can be in its vicinity, including Hatcher. CATS takes precautions to block off the rooms as they are being sanitized, and for 15 minutes afterward, no one is able to enter the room for additional precautions.
"The machine is so awesome! It disinfects up to 645 feet in 15 minutes," Hatcher said. "It really has enhanced all of our cleaning efforts."
Additional Methods of the COVID Clean Campaign
While cleaning and disinfecting is the top priority in CATS' COVID Clean Campaign, Hatcher has also ensured social distancing markers are placed throughout the building to encourage everyone to stay six feet apart. They have also implemented some scheduling changes to ensure the rooms are properly occupied and not over capacity. This was especially important for dining times to ensure smaller groups for social distancing.
Another part of Hatcher's role as the COVID response coordinator is to ensure all staff members and residents adhere to mask mandates. To make it a point of remembering and to have a little fun with it, Hatcher created "Marlon's Mask On Challenge." Every time a staff member spotted a resident properly wearing their mask and/or social distancing correctly, the resident was given a coupon. At the end of the weeklong challenge, the three men and women with the most coupons received a certificate and prizes for items such as toiletries.

Lessons Learned
"Even after the pandemic, we'll continue using the Disnfek machine because it kills viruses, bacteria and much more!" Hatcher said. "What we really learned through this was paying attention to other things throughout the building – like the bulletin boards, old posters and baseboards. We're being more attentive to things that maybe were overlooked before. My observation skills have grown off the charts. I can't believe how clean CATS is right now!"
CATS has a great relationship with the Ohio Department of Health and makes sure to stay compliant with all of its recommended training protocols. ODH was very impressed with the cleanliness of the building and the full COVID-19 response plan that is in place when they toured the building.
"I email with ODH every two weeks, and (a representative) came on a tour and gave us multiple compliments," Hatcher said. "If it's compliant for the Department of Health, it's good for us!"