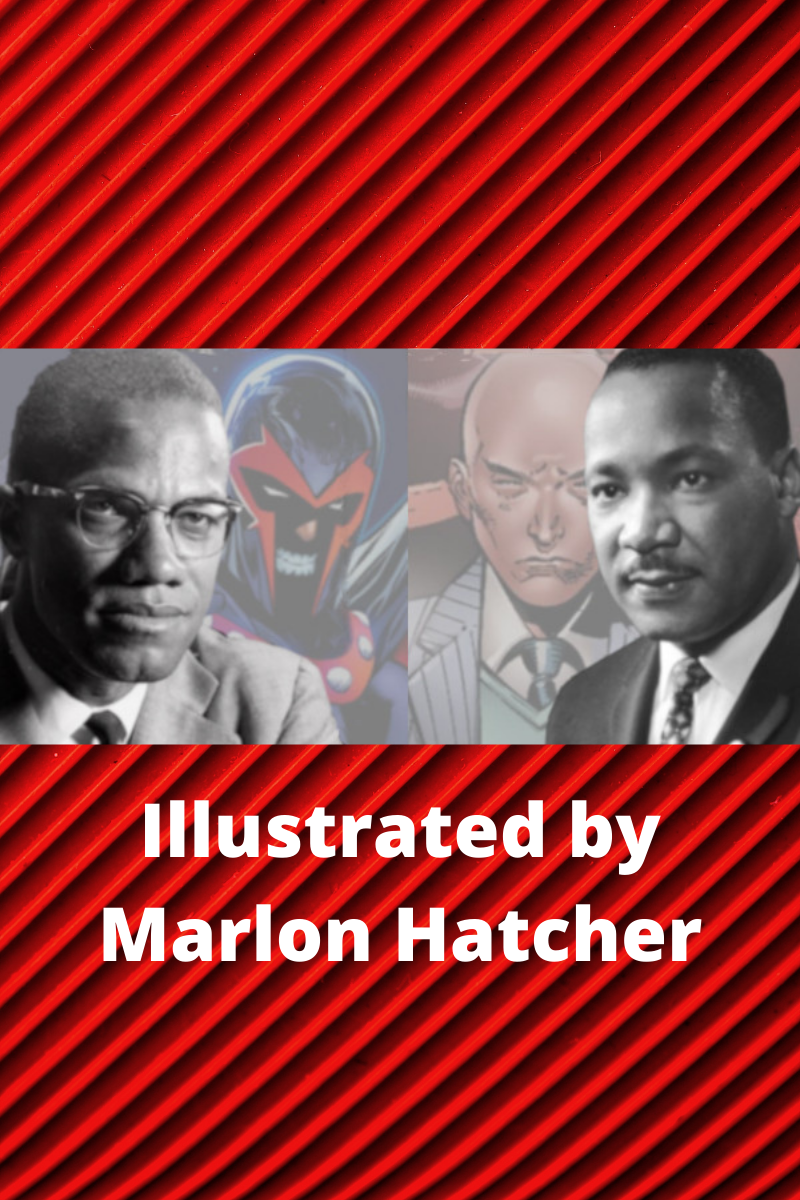 "Malcolm X is Magneto and Professor X is Dr. King! And mutants are black folk!" I was young and black, grew up in the 80s and 90s reading, watching and drawing the X-Men. It made my love for the popular Marvel comic book something personal.
The X-Men were "a good metaphor for what was happening with the civil rights movement in the country at that time." The X-Men are hated, feared and despised collectively by humanity for no other reason than that they are mutants.
The "conflict" between Martin Luther King Jr. and Malcolm X as Black Civil Rights Leaders due to different styles and religions, made it blatantly clear to me. Magneto even declared in the movie X-Men: First Class, "By Any Means Necessary" as his final lines in the flick.
"These two brilliant minds coming together and their views aren't that different on some key things. As you watch them you know that if their understanding, ability and intelligence could somehow come together it would be really special. But the split is what makes them even more interesting and tragic."
Professor X and Magneto are indeed faulty and inaccurate portrayals of Martin and Malcolm; but at the same time, they may be *truthful* portrayals of how American society has long perceived both men. 
So in the end, of course Martin and Malcolm aren't Professor X and Magneto. But heck, Martin and Malcolm in the popular memory of America aren't themselves either. Nor are the Civil Rights or Black Power Movements that shaped so much of America. They've always been something else, something cartoonish, made-up, refitted and half-remembered. When someone (usually black) gives us anything more daring, it tends to make lots of people uncomfortable.
How did the comic shape your life?
At a very young age, my mother noticed my interest in cartoons and comics. Every time she would go out, she would return with a brand-new comic for me. I remember being so excited each time as I was introduced to new superheroes and villains. The artwork was incredible and the stories were great. As I grew a little older, I began to draw these wonderful comics just by looking at them or imagining them. One day as Mom returned home with another issue of Marvel's X-Men, she noticed me drawing. She stood over my shoulder and the look on her face was very surprised. "I didn't know you could draw that well, Stoney." From then  on, she began to buy me art supplies all while still getting the comics because she said, "They inspire you."
As I grew older, I also began to excel in my studies. I became very intrigued about Black History and The Civil Rights Movement. The names that stood in the forefront for me were Malcom X and Martin Luther King Jr. I couldn't help it but, it all reminded me of the X-Men. I dare not share this with anyone because I was already being viewed at as different because of the things I was interested in, so I kept it to myself and only shared with my Mother and Sister. More years go by and now I am in recovery. This drawing, reading, creating and making music assists me to keep my mind and hands busy. I now have my own business, "Hatcher Illustrations", I run a music studio and I DJ as well. So, in conclusion, I say this to you, "Be yourself, everyone else is taken." 
-Marlon Hatcher, ADC
Activity Coordinator/Covid Response Coordinator