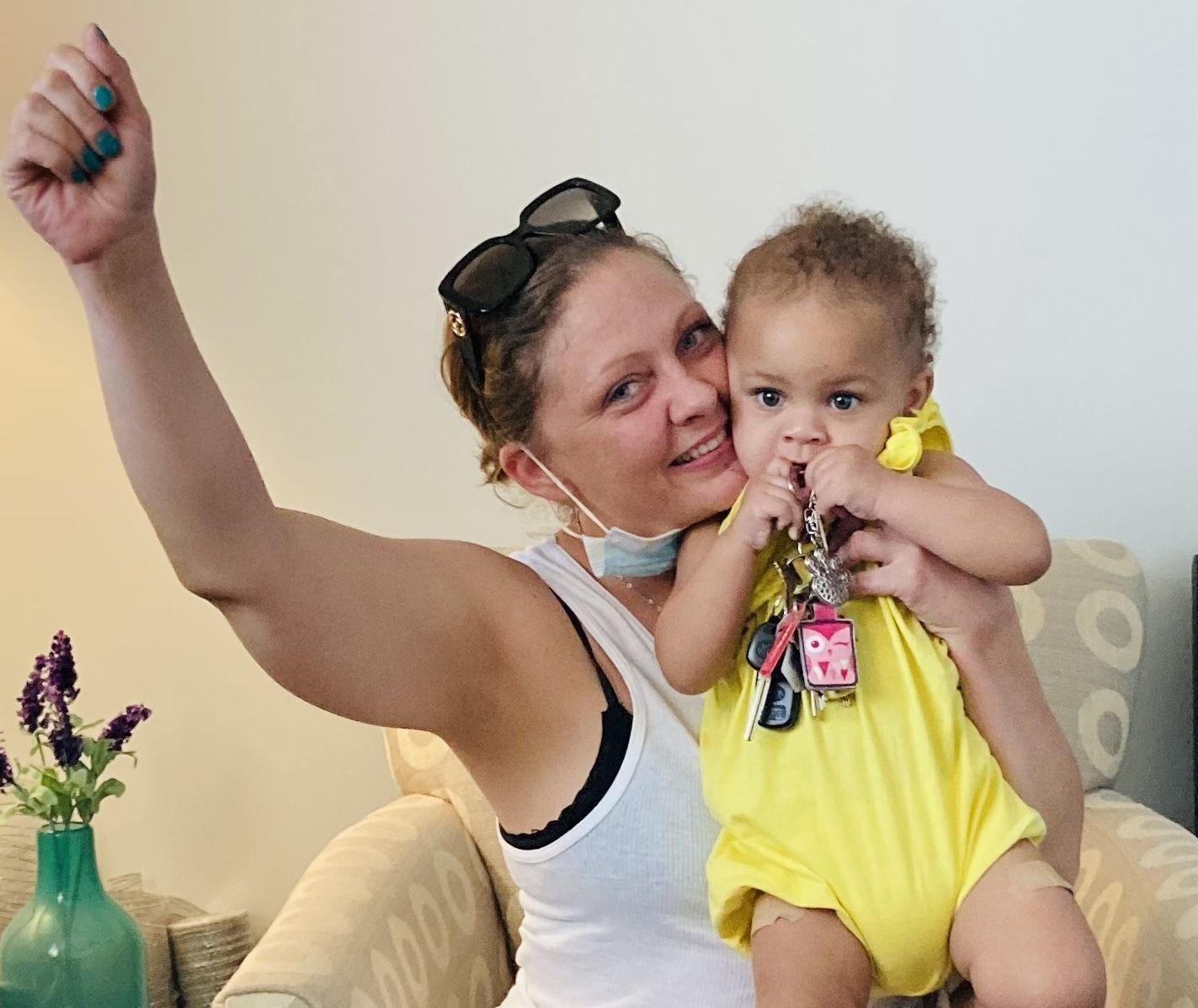 Our story begins as it did for so many struggling with Substance Use Disorder and drug related charges when COVID shut down our cities nationwide. The criminal justice system was forced to adapt quickly to managing congregate living in the early months of a pandemic. Those with non-violent offenses were released in the interest of public health.
Meet Manon. Manon was released from drug related detention just days after giving birth via cesarean section onto the Cleveland streets.
The detention center had banned detainees' use of office phones due to COVID concerns. Unable to call for a ride, Manon was on her own. As she traveled on foot, she was approached by a group of men near 79th & St. Clair/Superior and offered a fix for her addiction. She accepted and spent the next six weeks high on Crack Cocaine.
Manon made the courageous decision to ask for help. She called her probation officer, admitted the events of the past six weeks, and pleaded for access to a treatment program. Residential treatment beds were extremely limited during this time. Manon refers to her PO's resolve and finally admittance to CATS as "divine intervention". CATS was able to give Manon her sobriety date that same day, May 17, 2020. She had begun her journey to recover.
At CATS, staff were all-hands-in to provide Manon the help and support she needed to begin her journey. She conveyed complete gratitude for the above and beyond care she received from her team at CATS. Each week, her case manager drove Manon to visit her daughter, Harlem. Our Admissions Manager, Debbie Schon, came in every weekend to provide Zoom visitation for clients and families.
Miss Anita, Manon's counselor assessed her needs and arranged for Manon to meet with Linda Glasner, trauma specialist at CATS. Ms. Glasner and Manon worked together weekly until Manon's successful discharge on September 17, 2020. Chef Brown, taught her culinary skills and arranged for her application to EDWINS Leadership and Restaurant Institute.
Manon then utilized CATS' sober living program for 30 days while attending EDWINS and making housing arrangements. Just months after completing her treatment and culinary programs, Manon was able to reclaim her daughter from child services.
During this time and early in sobriety, Manon suffered an incredible loss. Her sister passed away.
"I was able to be there for her during her last days. I was able show up for her andput her to rest. I would not have been able to do so, without living in sobriety, on life's terms. I knew that if I could get through this, I can make it through anything."
Today, Manon works five days a week at an upscale bistro, is a full-time single mother, full-time undergraduate at CSU, and a 4.0 student. In just two years she will have a bachelor's degree in International Business! Upon graduation in 2024, she plans to secure a great job and purchase a home for her family. Manon maintains her sobriety through close work with her sponsor and regular twelve step meetings via Zoom.
"I am so happy. I have everything I need. Snuggling with my daughter Harlem and our two rescue kittens, Drako and Breezy is our favorite activity."
Manon and Harlem have built a solid routine. They begin each day with breakfast, car ride to Early Steps preschool (where Harlem is thriving, building skills and even learning sign language), then Manon then begins her lunch shift. After work, Manon brings Harlem to their warm home, they play with Drako and Breezy, have dinner, Harlem goes to sleep, then Manon begins to study for her full class load. During their free time, Harlem and her mom visit Skyzone, Farm Parks, Zoo, Aquarium, and Chucky Cheese.
Manon has worked extremely hard to rebuild her life and provide a safe, healthy, and happy home for her family. We are pleased as punch to shine a light on her success in sobriety.
Congratulations, Manon!
Learn more about Manon's experience at CATS here: Manon's Video One Year After Graduating CATS'